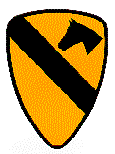 "SABER"
NOV - DEC 2001





Hello Real Cav,

By the time you read this, Veterans Day will have come and gone. I hope many of you got a chance to go to D.C. for the special events, made even more special this year in the aftermath of the Sept. 11 attacks, and the very special program at the annual Ia Drang dinner.

In the last column, I forwarded a heads-up from COL (Ret) Pete BOOTH <longknife6@hotmail.com> (SQDN CDR 69-70), about the impending dedication of the 1-9th CAV's Aid Station at Ft. Hood to former SQDN Flight Surgeon Dr. (COL) Hal KUSHNER (RET), who spent several years as a POW following a helicopter crash in 1967. Special thanks to LTC (Ret) Bert CHOLE (CO, E Trp 70-71, Brigade S-3 71) and CPT Trevor N. SULLINS <TREVOR.SULLINS@hood.army.mil> "Headhunter 1" at Ft. Hood for sending me reports and photos on the dedication, as did the current 1-9th CAV BN CDR, LTC Roger L. MCDONALD who wrote: "On 19 Oct, the soldiers and officers of the Headhunter battalion dedicated the 1-9th Cav Aid Station to COL Hal KUSHNER. Dr. KUSHNER flew in from Florida for the event and was also able to attend a 1-9 CAV Hail and Farewell with the Headhunters. LTC(R) Bert CHOLE and his wife [Eileen] attended the Hail and Farewell and dedication ceremony as well. Bert was able to provide us all with a first hand account of COL KUSHNER's personal story. A full account of his story as told by COL KUSHNER is available at: <http://www.war-stories.com/h-kushner_personal-story.htm>. The ceremony began with a quick breakfast in the Hatch Conference Room followed by the dedication in the 1-9th CAV Aid Station. It was a privilege to be able to honor this true hero and Headhunter brother. COL KUSHNER's extreme loyalty and dedication to the Army and our nation are an example for us all...especially in these times of trial for our country. We Can! We Will! Headhunters! Headhunter 6." CPT SULLINS, Bn S-1, added that "after the ceremony Dr. KUSHNER took a tour of the aid station and met some of the battalion's medical personnel. Afterward, the group moved outside to see the new aid station sign. Following the ceremony, I escorted COL (R) KUSHNER around post. LTC (R) CHOLE gave him a tour and hands-on training at the Close Combat Tactical Trainer building. We also toured the 1st Cavalry Division museum. Attendees included 3d Bde CDR COL Kevin WENDEL, 1-9th CDR LTC Roger McDONALD, Bn CSM Walter SMITH, Bn XO MAJ Howie BREWINGTON, all Staff (S-1, S-2 section officers, S-3 section officers, S-4), Chaplain, Bn Medical Officer, Bn Physician Assistant), all company CDRs and 1SGTs, Bn Medical PSG and Medics."

Jim KURTZ <kurtzes@erols.com> (A Trp '70-71, C Trp '71, Fairfax, VA) wrote: Walker, here's one for the "It's a Small World" department: my son Chris works for the Muscular Dystrophy Assn in Roanoke, VA. This summer he was director of a week-long camp for kids with various muscular disorders. His camp shared space with the local 4H club, which arranged to have an air ambulance helicopter come out for the kids to see. My son heard from one of the 4H camp counselors that the guy flying the helicopter was Carl ROSAPEPE [LG10Pilot@aol.com] and recognized the name. Rosey flew Cobras in A Troop when I was there, and my son and I both knew from Jerry BOYLE's [Banzai24@aol.com] book "Apache Sunrise" that Rosey was flying medevacs in Roanoke. So Chris went down to the pad and introduced himself. I haven't seen Rosey in 30 years, but my son's met him. We've exchanged emails and will get together one of these times. Dont waste any time Jim and Rosey.

1SGT (Ret) Leonard A. DEMARAY <resource@worldnet.att.net> (B Trp Scouts 69-70) was one of the honorees at the annual Veterans Day Gala benefit held at Ft. Bliss. He also served in Desert Storm. Ron McKIDDY <rmmhs1972@mindspring.com> tells me that his nephew has been called up for duty with the Ohio Guard, Another McKIDDY wearing the uniform. Rons brother, SGT Gary McKIDDY, was put in for the MOH after rescuing his badly wounded friend, Jim SKAGGS (933 Cherry Ln., Troy, IL 62294, 618-667-6415), but died while trying to retrieve his LOH pilot, WO Tommy WHIDDON on May 6, 1970. The C-1-9th barracks and day room at Ft. Hood are dedicated in Garys name. Their dad, Edgar McKIDDY recently called up to tell me that hed love to be my doorgunner if the old 1-9th were called up to fight in Afghanistan. Edgar also sent me copies of photos of Gary in Vietnam; one included Garth RANKIN, who was my gunner the first day I flew right seat Loach. Its nice to know that the First Cavalry Division still sees fit to confer honor on those that came before, despite the change in mission. Regarding Afghanistan, Steve HUNDLEY <raider8mike@msn.com> (C Trp Maint Plt Sgt, '66-67, Austin, TX) wanted me to print his feelings that America's anti-war wimps are our enemies best allies. I think most of us concur.

I don't know if many of you are aware that the current 1-9th CAV at Ft. Hood call themselves Headhunters. The origin of Headhunters is a fit subject to pursue. My info is that it originated as the name for A Troop Lift in 65. Anybody got good intel on this? J. R. NIELSON <hhunter36@catskill.net> has sent me several photos of A Trp nose art, depicting Headhunter. My fellow C Troopers tell me that their Lift Platoon in '65 was called Bushmasters.

Speaking of getting together, in an earlier column, I suggested all of us old vets try to get together with former Unit buds as we travel on business and pleasure. This is happening! About 3 years ago, I had to be in Las Vegas, so I looked up any 1-9th VHPA member who lived there and contacted Lad VAUGHN <cavlad31@earthlink.net> (A, HHT Lift '69-70). We met in a bar, Cav Hats on, and are now friends for life. Since then, Lad formed the Las Vegas Chapter of the VHPA and will be the host for the 2002 VHPA reunion next June. Michael "Smitty" Smith <CaseFiler@aol.com> (C Trp Lift '70-71) is doing local arrangements. We urge ALL former 1-9th CAV guys to make plans to attend.

Both Bill MOELLER <moeller18212@earthlink.net> (C Trp Avionics '70-71, Rockville, MD), and Jack SCHWARTZ <cavalier44@lycos.com> (C Trp Lift '70-71, DeLand, FL), both reported on a Jacksonville, FL mini-reunion that took place recently. Other attendees were Harry REEG <HAR148@aol.com> (C Trp Maint., Lift CE '69-70, Ocala, FL), Sonny BOLES <sonnyboy6670@yahoo.com> (CE Weapons, Blues '68-69, Elking, NC), Luther RUSSELL <uti@leo.infi.net> Columbus, GA, C Trp Scout pilot 69, Tom MEADE (D Trp '69-70, Iowa City, IA), Mark Babysan HILTON <markhilton@juno.com> (C Trp Scout, Lift pilot, '70-71, Fairfax, VA), plus assorted family and friends. Harry crewed the COs (Bob TREDWAY) bird and signed the Charlie Troop Flag next to TREDWAYs signature. Look for pics and After Action report on Jacks C Troop website at: http://cavalier44.tripod.com/

Another significant mini-reunion involved 4 former C Trp Cobra pilots who flew together in '70-71. "Little Al" SELLERS <sleepchildcrk@hotmail.com> and wife Joy (Hamilton, MT) hosted "Big Al" DeMAILO (Ambridge, PA), Donna and Dexter EVANS (Brandon, MS) along with Linda and I. For several days, we went on a SELLERS-led guided tour that covered Yellowstone and the Grande Tetons, ending at their B&B in the Bitterroot Mtns. We all stood together in a cabin on Sept. 11, watching in shock at what was happening in NYC and D.C. We also signed The Flag that Bill MOELLER sends prior to any C Trp mini. I developed a website to share those wonderful days spent together: http://realcav.tripod.com/montanamini/index.html

Ronald CHRISTOPHER <wiseowl@pennswoods.net> (A Trp Blues, LRRPs '66-67) reported a recent A Trp mini-reunion in the Gettysburg, PA area. Present were: John NIELSON and wife Darlene. John was a lift ship pilot. Jim SCHLOTTMAN and his wife Maggie. Jim was A Trps FAO and a damn good one at that. Robert SWAIN was a gunship pilot for 6 months then a lift ship pilot for the other six months. Larry WRIGHT was crew chief and gunner on the CO's ship. Last was me and my wife, Jean. I was the squad leader of the second squad (Blues) and the Assistant Platoon Sgt. Each served together in '66. They toured the battlefield on Saturday morning and then looked at slides from many years ago. On Oct. 17 in Baden, PA, fellow C Troop pilots from '70-71, Big Al DeMAILO and Jack SCHWARZ were reacquainted.

Mike KELLEY <warriorstory@aol.com> (C Trp Weapons, Scouts, '65-66) wrote that he recently got together with one of his old C Trp buds PFC Peter BURBANK (C Trp Blues '65-66). We met for coffee up in Portland, Maine and enjoyed a couple hours of each others company. Pete took my wife Ruth and I on a tour of the city and harbor and we had a great time. We talked a little of our days in Nam and of our lives since then. Pete had a bad car accident and was recovering from some broken ribs but was back to work and putting a cap on his 30 plus year career in public safety. He told me when he retires he will do a lot of hunting and invited me down to Maine to go hunting. Being a city slicker, I will go with Pete and just keep him company and try to keep warm. If any BLUES are reading this, send me a message for Pete at my e-mail address.

Dave DeSLOOVER <doveent@foxberry.net> (C Trp '65-66, Monroe, MI), has been looking for several years trying to locate his Plt Sgt from '66 - Ralph UTZ. Dave worked for years locating former C Troopers and has led a successful battle against liver cancer. Thanks to Brian HOLCOMB <bholcomb@jps.net> (C Trp Lift pilot '70-71, Folsom, CA) and his forest fire slurry pilot network, I got to speak with one of my favorite Scout gunners, Larry KRAUSE (P.O. Box 338, Redmond, OR 97756-0078, cell: 541-419-5726). As a pilot fighting forest fires now, he says hes rarely ever home, but he has his cell phone.Terry WASHBURN <wizard1849@aol.com> (C Trp Cobra pilot '69-70, Valrico, FL) e-mailed, asking if anyone gets to the Tampa/Orlando area to please give him a call at 813-661-9185.

I am in the middle of moving and all my notes and snail mail reside in an unopened box somewhere, so Ill acknowledge you folks in the next issue.

WE CAN, WE WILL!







LTC Roger McDonald, 1-9 CDR, and Dr. COL (R) Hal Kushner